The Magic in Your Mind
BY U.S. ANDERSON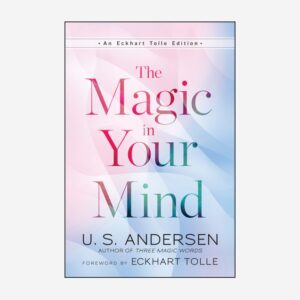 A perennial self-help favorite, updated to speak powerfully to contemporary readers and with a foreword by Eckhart Tolle
Before there was The Law of Attraction or The Secret, there was The Magic in Your Mind by U. S. Andersen. Eckhart Tolle recognized the brilliance of this self-empowerment classic and here presents it anew as the latest volume in his imprint. In clear, crisp, invigorating language, Andersen offers a liberating message for anyone seeking to improve and understand their life. He shows how to:
• free your "Secret Self" and experience self-mastery
• use mental visualization
• understand the concept of "mind over matter"
• fully employ your power of choice
• overcome opposition with tools such as the innate sixth sense
Andersen outlines a "mental magic" that makes it possible to attain goals in any field — one made evident by his own many successes in a variety of enterprises. "Here," he promises, "you will learn the secret way in which your mind is tied to the source of all power; you will learn how you are capable of becoming anything and doing anything you can visualize." An essential addition to any spirituality/self-help bookshelf or night table, The Magic in Your Mind invites you to experience your innate creative mental power that's just waiting to be unleashed.
ENDORSEMENTS
"Open randomly to any page, start reading, and you most likely won't want to put it down. As with all spiritual classics, this will be the case even if you have already read the book several times." "— from the foreword by Eckhart Tolle 
FOREWARD
"A work of enduring excellence." This is one of the main dictionary definitions of a "classic." In the realm of books of fiction as well as nonfiction, we should be careful not to equate the rank of "bestseller" with that of a "classic." Most bestsellers have a limited life span, especially if their popularity is mainly due to clever promotional publicity, commonly called "hype." Many such bestsellers lose their readership after a few months or a few years at best.
Some books, however, remain popular and widely read even though decades or centuries have passed since their first publication. They become classics.
What are the characteristics of a classic?
Although every book reflects, to a greater or lesser extent, the time period and cultural environment of its author, a classic possesses an added dimension of profound insight into the human condition that transcends historical time and cultural space. From generation to generation, such books add value and depth to the lives of their readers. This applies to works of fiction and to an even greater degree to spiritual classics, which, I would suggest, have a transformative power that exceeds even that of great literature. That inherent power is impossible to define or understand conceptually. As you read, something within you recognizes the truth to which the words point, responds to it, and is strengthened by it. The act of reading becomes a spiritual experience, and a subtle shift in consciousness occurs.
Spiritual writings that contain such transformative power are rare, and it is those writings that become classics.
The Magic in Your Mind is one of those rare books. Open randomly to any page, start reading, and you most likely won't want to put it down. As with all spiritual classics, this will be the case even if you have already read the book several times. The hallmark of such a book is that the writing is always experienced as fresh and new, no matter how many times you have read it before.
No author writes in a vacuum, of course, and every spiritual teacher uses terminology that corresponds to and reflects their cultural and temporal background. In the case of U. S. Andersen, a reader may discern echoes of other great teachers of distinctly American spirituality, such as Ralph Waldo Emerson and Ernest Holmes. Apparently, our author also studied the writings of Mary Baker Eddy, founder of Christian Science.
The power that is contained within the pages of this book, however, is clearly not derived from any secondary sources, but from the author's own spiritual realization and insights. The "Secret Self," as he calls it, spoke through him. This term corresponds to what I sometimes refer to as the "Deep I," as opposed to the "surface I" of ordinary egoic consciousness. It is through identification with the Secret Self that, in Andersen's own words, "the seeds of power are sown."
The attentive reader will notice that the teachings contained within this book strike a not easily achieved balance between creative participation in the world through the art of manifestation and the realization of our essential identity as pure consciousness, which Andersen calls "the animating presence residing in all persons and in all things." I call it the balance between Being and Doing, or between the vertical and horizontal dimensions of human existence.
The book was first published in 1961. It seems that it reached a fairly substantial number of readers in those early years but then, strangely, became almost forgotten, although it remained an underground favorite among a relatively small number of people with a special interest in the so-called New Thought philosophy. I remember stumbling upon a secondhand copy of it in the basement of Watkins Books in London in 1977, and I immediately recognized its value.
Given the book's power, why did it fail to achieve its deserved status of a widely read "spiritual classic"? It sometimes happens that such a book falls through the cracks, so to speak. In some cases, it may not be given enough time to grow organically, so when initial sales are lower than expected, the publisher decides prematurely to drop the book. Or it could be that a lull in sales in a particular year causes the publisher to lose interest, and so the book goes out of print. Be that as it may in this particular case, there is no doubt in my mind that the book has the potential of belatedly becoming a well-known classic and transforming the lives of many generations of readers.
We do not have a great deal of detailed information about the life of its author, U. S. (Uell Stanley) Andersen. He was born in 1917 in Oregon and passed away in 1986. It seems to me that in his lifetime he experienced three incarnations, so to speak.
He was a student at Stanford University and became the captain of its 1939 football team. Subsequently, he achieved some fame as a professional football player in the NFL. That was his first incarnation. Then he became a successful businessman and entrepreneur. His keen interest in spirituality must have led to a profound awakening of consciousness that enabled him to become a spiritual teacher and author in his third and final incarnation in this lifetime. He wrote one other notable and powerful book, entitled Three Magic Words.
For this new edition, the book has gone through some editing in order to make it more accessible and relevant for our times. For example, as was usual for the time period in which the book was written, the author used the words man and men and the pronoun he to signify all human beings. This would be felt to be unacceptable by most contemporary readers, and for this reason it was decided to edit the text for gender neutrality, inclusivity, and greater accessibility.
I am grateful to U. S. Andersen for leaving us the legacy of this jewel of a book. May it play its part in the urgently needed awakening of human consciousness!
— Eckhart Tolle